Rabbi Aaron Dovid Zeldner

אהרן דוד ב"ר חיים הכהן
Rav, Rock Island, Illinois
Date of Death: Mon. September 6, 1937 - Tishrei 1 5698
Rosh Hashana
Anyone with biographical information is asked to please send it in.
See CONTACT page for details. Thank you.
Cemetery:
Mount Judah Cemetery - Ridgewood (Queens)
Directions to Kever: Mount Judah Cemetery in Queens maintains computerized records and will provide a detailed location map upon request. Location: Section: 2, Block: 7, Path: L12, Society: MACHPELA #09, along, the back wall of the cemetery, which runs parallel to the Jackie Robinson Expressway.
Name Listed on Cemetery Database: ZELDNER, AARON D
Biographical Notes: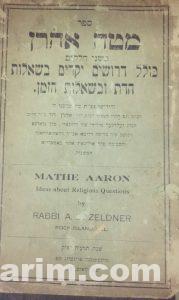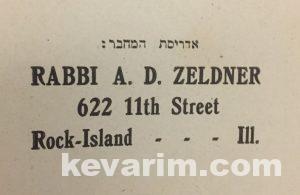 Credit: Institute For Judaic Culture and History (IFJCAH)
« Previous: Rabbi Moshe Schustak
Next: Agudas HaRabonim Convention, Park Inn Hotel, 1952 »