Rabbi Yitzchok Siegel

יצחק ב"ר חיים הלוי
Chief Rabbi, Jersey City, New Jersey
Date of Death: Sun. July 11, 1976 - Tammuz 13 5736

Anyone with biographical information is asked to please send it in.
See CONTACT page for details. Thank you.
Cemetery:
Baron Hirsch Cemetery - Staten Island
Directions to Kever: Baron Hirsch Cemetery in Staten Island maintains computerized records and will provide a detailed location map upon request. The cemetery is in extreme disarray with poorly paved roads, missing signs, and countless overturned tombstones. Exercise caution when visiting especially after office hours. Should an actual emergency occur call 911 or Staten Island Shomrim Safety Patrol: 718-370-2121. Location: Gate: E-16, Society: Adas Yisroel of Bayonne, one row in.
Name Listed on Cemetery Database: Name listed on marker: Rabbi Isaac Siegel
Biographical Notes: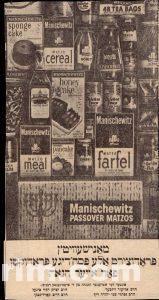 Photo Caption: Kosher for Passover products from the Manischewitz company under the supervision of Rav Seigel, Source: Day Jewish Journal, 1965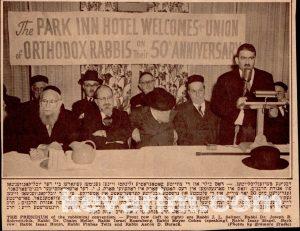 Credit: Institute For Judaic Culture and History (IFJCAH)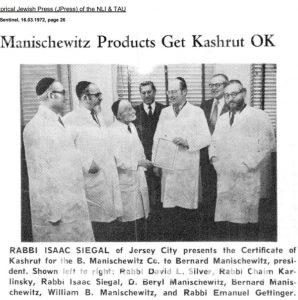 Source: Needed 
« Previous: Rabbi Yaakov Yehuda Hecht
Next: Rabbi Moshe Schustak »