Rabbi Moshe Tannenbaum

משה ב"ר אברהם אבא
Rav, Congregation Bais Avroham, East New York, Brooklyn
Date of Death: Mon. July 27, 1936 - Av 8 5696

Anyone with biographical information is asked to please send it in.
See CONTACT page for details. Thank you.
Cemetery:
Mount Zion Cemetery - Queens
Directions to Kever: Mount Zion Cemetery in Queens maintains computerized records and will provide a detailed location map upon request. Location: Society: TREE OF LIFE, Path: 13R, Gate: 1
Name Listed on Cemetery Database: TANNENBAUM, MORRIS
Biographical Notes:
Bio Information:
Rav Tennenbaum was a member of the Council of Orthodox Rabbis or Degel Harabanim as it was known.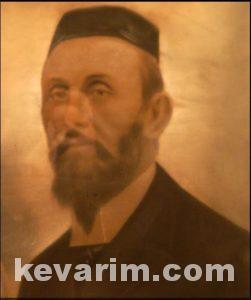 Photo Caption: Rav Moshe Tannenbaum, Credit: Joanne Moll




Source: Needed 
« Previous: Rabbi Tzvi Hirsch Silverblatt
Next: Rabbi Alter Chaim Tzadok Schachter »