Rabbi Noach Rosenthal

נח ב"ר יוסף
Principal, Kingston Hebrew School, Ulster County
Date of Death: Thu. April 2, 1936 - Nissan 10 5696

Anyone with biographical information is asked to please send it in.
See CONTACT page for details. Thank you.
Cemetery:
Montrepose Cemetery - Kingston (Ulster County)
Directions to Kever: Montrepose Cemetery is located in upstate Kingston (Ulster County). Location: Agudas Achim
Name Listed on Cemetery Database: Name listed on marker: Rabbi Noah Rosenthal
Biographical Notes:
Bio Information:
Rabbi Rosenthal drowned in the Rondout Creek. It was originally ruled a suicide by local authorities, then later changed to accidental.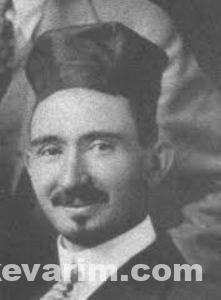 Photo Caption: Rabbi Noach Rosenthal, Credit: MCA
« Previous: The Wittenberg Matzoh Co
Next: Rabbi Dr. Eliyahu Jung »