Rabbi Asher Nissan Levitan

אשר ניסן הלוי
Chief Rabbi, Shavel, Lithuania
Date of Death: Fri. May 25, 1956 - Sivan 15 5716

Anyone with biographical information is asked to please send it in.
See CONTACT page for details. Thank you.
Cemetery:
Mount Judah Cemetery - Queens
Directions to Kever: Society: TAL TOR TIPH JER, Section: 1, Block: V, Gate: 1, left side of the section
Name Listed on Cemetery Database: LEVITAN, OSHER N.
Biographical Notes: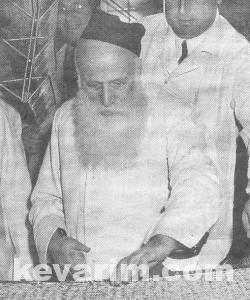 Photo caption: Overseeing production at the Streit's Matzo factory, c. 1960 Credit: Aron Streit, Inc.
Rav Levitan a prominent Moreh Dasrah in the Bronx was also the uncle of Rav Elazar Menachem Man Shach, the late Ponevezher Rosh Yeshiva.