Rabbi Pesach Rosenthal

פסח ב"ר גדליה
Rav, Utica, New York
Date of Death: Tue. July 2, 1861 - Tammuz 24 5621

Anyone with biographical information is asked to please send it in.
See CONTACT page for details. Thank you.
Cemetery:
Machpelah Cemetery - Queens
,
Union Field Cemetery - Queens
Directions to Kever: The actual kever sits on the grounds of the Machpelah Cemetery located in Ridgewood, Queens, however, access from Union Field Cemetery is recommended. Location: (From Union Field), Main Road, right on Path J past the trees into Machpelah Cemetery about fifteen feet to the right, look for candle box). It's in the same section as Rabbi Avroham Yosef Ash, See Map below.
Biographical Notes: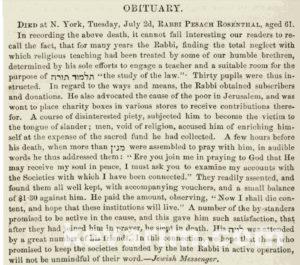 Credit: The Occident, August 1, 1861, page: 48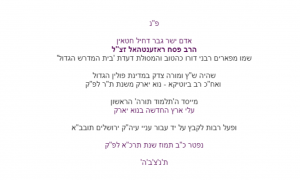 Photo Caption: Original text of Rabbi Rosenthal's marker, Credit: Moreshes Chachmei America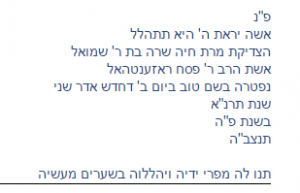 Photo Caption: Original text of Chaya Sarah Rosenthal's marker, Credit: Moreshes Chachmei America
Bio Information: 
Rabbi Peasach Rosenthal is credited with having founded and taught at the very first Talmud Torah in New York City and perhaps all of North America. In addition, prior to his arrival in New York City he rabbinated in upstate Utica, NY.

Map To The Kever Of Rav Rosenthal From Union Field Cemetery: