Rabbi Pesach Rosenthal

Hebrew Teacher
Date of Death: Tue. July 2, 1861 - Tammuz 24 5621

Anyone with biographical information is asked to please send it in.
See CONTACT page for details. Thank you.
Cemetery:
Machpelah Cemetery - Queens
Directions to Kever: Access is easier from Union Field Cemetery. Main Road, right on Path: J past the trees into Machpelah Cemetery about fifteen feet to the right, look for candle box. in the same section as Rabbi Avroham Yosef Ash.
Biographical Notes:
Pesach Rosenthal
Credit: The Occident, August 1, 1861, page: 48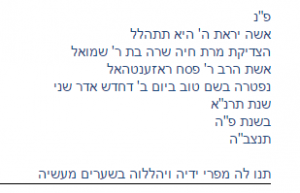 Photo Caption: Original text of Chaya Sarah Rosenthal's marker, Credit: Moreshes Chachmei America
Bio Information: 
Rabbi Peasach Rosenthal is credited to have founded and taught in the very first Talmud Torah on these shores. His father-in-law, Rav Shmuel Harris was a founding member on the Bais Hamedrash HaGadol of Norfolk Street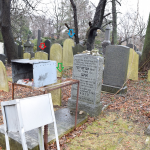 Credit: Color arrow legend : ​​blue - for Rabbi Pesach Rosenthal, red - his wife Chaya Sarah, green - his father-in-law Rav Shmuel Harris