Rabbi Shmuel Blum

שמואל הלוי ב"ר
Author, HaTzikolon and Omer VaDvorim
Date of Death: Tue. January 24, 1933 - Teves 26 5693

Anyone with biographical information is asked to please send it in.
See CONTACT page for details. Thank you.
Cemetery:
Mount Judah Cemetery - Ridgewood (Queens)
Directions to Kever: Mount Judah Cemetery in Queens maintains computerized records and will provide a detailed location map upon request. Location: Section: 1 (office side), Block: U:7, Bethel Avenue on the right side
Name Listed on Cemetery Database: BLOOM, SAMUEL
Biographical Notes: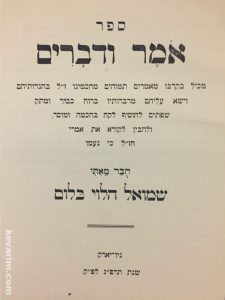 Credit: Institute For Judaic Culture and History (IFJCAH)
Bio Information:
The Rav's seforim have haskamos (approbations) from many of the leading Rabbonim of the time.