Rabbi Tzvi Hirsch Dachowitz

צבי הירש ב"ר שלמה זלמן
Rav Congregation Agudath Achim Anshei Libowitz, Brooklyn, NY
Date of Death: Tue. November 17, 1953 - Kislev 10 5714

Anyone with biographical information is asked to please send it in.
See CONTACT page for details. Thank you.
Cemetery:
Beth David Cemetery - Long Island
Directions to Kever: Beth David Cemetery in Elmont, NY maintains computerized records and will provide a detailed location map upon request. Location:
Name Listed on Cemetery Database: Name listed on marker: Rabbi Hirsh Dachowitz
Biographical Notes: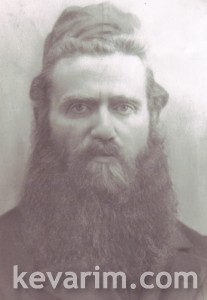 Photo Credit: The Dachowitz family album.


Photo Caption: Rav Dachowitz at a weeding (cylinder – top hat), Credit: Moreshes Chachmei America
Bio Information:
Rav Dachowitz, a prominent member of the Brownsville rabbinate was the president of the Agudath HaRabonim.