Rabbi Yisroel Kaplan

ישראל ב"ר
Rav, New York City
Date of Death: Thu. January 25, 1917 - Shevat 23 5677

Anyone with biographical information is asked to please send it in.
See CONTACT page for details. Thank you.
Cemetery:
Mount Carmel Cemetery Section 1 and Office - Glendale (Queens)
Directions to Kever: Mount Carmel Cemetery in Ridgewood, Queens maintains computerized records and will provide a detailed location map upon request. Location: KEHILATH JESHURAN SEC A, Section: 1, Block: C, Map: 1A, Lot: 34 Grave: 8, floor-stone
Name Listed on Cemetery Database: KAPLAN, ISRAEL
Biographical Notes:
Note:
There seems to be a discrepancy with regard to the date of the Rav's passing on his marker.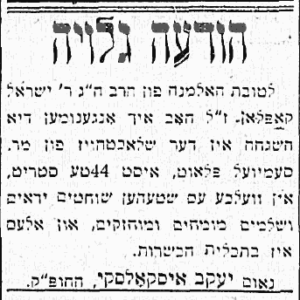 Photo Caption: Announcement regarding ritual slaughter sertifacation after Rav Kaplan's passing, Source: The Morning Journal, 1917.




Photo Caption: Short Bio
Bio Information:
The Rav originally from Vilna was summoned to New York City by Cheif Rabbi Yaakov Yosef Joseph (RJJ) to help assist him in the New York Rabbinate.
« Previous: Rabbi Shneur Nussbaum
Next: Rabbi Ben Tzion Schneiersohn »