Rabbi Yitzchok Gerechter

יצחק ב"ר יהודא
Hebrew teacher, Hebrew Free School Association, School # 4
Date of Death: Wed. February 8, 1893 - Shevar 22 5653

Anyone with biographical information is asked to please send it in.
See CONTACT page for details. Thank you.
Cemetery:
Bayside Cemetery- Pitkin Avenue in Queens
Directions to Kever: Although in a constant state of cleanup, Bayside Cemetery along Pitkin Avenue in Queens is in extreme disarray and can be dangerous, use caution when visiting!!! In the event of an emergency call 911. Location: Gate: 22
Name Listed on Cemetery Database: Name listed on marker: Rev Isidor Gerechter
Biographical Notes:
In 1864 the Hebrew Free School Association came into existence to counter the initiatives of Christian missionaries who opened a school on New York's East Side that offered to teach Hebrew to Jewish children with the agenda to convert them to Christianity.
A few months before the Hebrew Free School Association came into existence, this notice was circulated to all New York congregations.
NOTICE (Copy of original notice):
At a meeting of the officers of our city congregations, held on Sunday, April 3rd, a resolution was adopted, that public notice be given in your Synagogues, to the following effect:
It has come to the knowledge of the United Congregations that there are Jewish parents who send their children to schools, purporting to be "for Israelites, exclusively," where instruction is gratuitously given in English, German and Hebrew, and also in the Christian "Testament."   Notice is hereby given that there is no free school now in operation under the direction or the authority of a Jewish Congregation, and the effect of sending children to such an institution as is here indicated, must be to estrange them from Judaism. The Jewish Congregations of New York will shortly establish Hebrew Free Schools, where Jewish youth may be educated in the Hebrew language, as well as in their religion. Due notice will be given of the location of these projected schools. Parents are accordingly earnestly cautioned against entrusting their children to any "free schools" purporting to be for the instruction of young Israelites, except those to be organized under the supervision of the Congregations, and which, it is expected, will be open at an early day.
It was then followed by a resolution:
By a resolution, adopted at the meeting of the officers of New York Congregations, held on Sunday last, you are requested to have the above notice read in Synagogue, in English or German, for four successive Sabbaths and during the coming Holydays.New York, April 6, 5624 (29 Adar II 5624 / April 6, 1864)
Source: adapted from the Angel Orensanz Center website
By 1868, the Hebrew Free School Association comprised of 4 schools:
School #1 located at 38 Avenue C, total enrollment was 458 students. The curriculum included both General and Hebrew studies.
School #2 was an afternoon Hebrew school, located at the same address. The total enrollment was 88 students.
School #3 was an afternoon Hebrew school located at Congregation Darech Amuno on Greene Street (current address: 2 Van Nest Place). The total enrollment was 189 students.
School #4 was an afternoon Hebrew school located at 205 East 27th Street. The school started with 108 students but only 62 remained by the summer.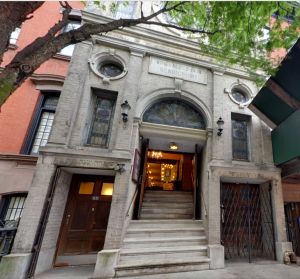 Photo Caption: Congregation Darech Amuno as it stands today at 53 Charles Street (2 Van Nest Place) in New York City's Greenwich Village. Established in 1838, Congregation Darech Amuno is among the oldest Orthodox congregations in New York City. 
« Previous: Rabbi Menahem Nachum Weisblatt
Next: Rabbi Yekusiel Raphael Hurwitz »