Rabbi Yom Tov Lippman Levine

יום טוב ליפמאן ב"ר אליהו ליב
Rav, Bais Hamedrash Agudath Achim, Brooklyn, New York
Date of Death: Sun. February 12, 1967 - Adar I 2 5727

Anyone with biographical information is asked to please send it in.
See CONTACT page for details. Thank you.
Cemetery:
Mount Judah Cemetery - Queens
Directions to Kever: Mount Judah Cemetery (office side) in Queens maintains computerized records and will provide a detailed location map upon request. Location: Section: 2, Block: 2, Gate: 12, Path: L09, Society: CHAIM BERLIN. Corner of Emanuel and Washington Avenue, a few rows behind the kever of Rav Pam.
Name Listed on Cemetery Database: LEVINE, LIPPMAN
Biographical Notes:


Credit: Moreshes Chachmei America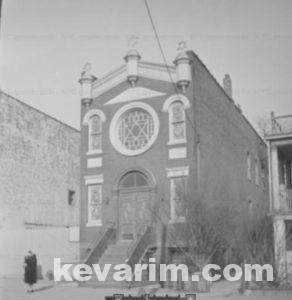 Photo Caption: Agudath Achim (43 Malta Street in Brooklyn) as it stood c. 1940, Credit: NYC
Note: Sadly, the building still stand but awaiting return to its glory.