Rabbi Yosef Dover (Dov Ber) Soloveitchik

יוסף דובער ב"ר שמחה הלוי
Rav, Congregation Sons of Israel, Spring Valley, New York
Date of Death: Mon. May 18, 1987 - Iyar 19 5747

Anyone with biographical information is asked to please send it in.
See CONTACT page for details. Thank you.
Cemetery:
Mount Judah Cemetery - Ridgewood (Queens)
Directions to Kever: Mount Judah Cemetery in Ridgewood, Queens maintains computerized records and will provide a detailed location map upon request. Location: Society: TIF ISR OF N Y, Section: 1, Block: T, Gate: 5, along Judah Road last section before Sinai Avenue on the left side
Name Listed on Cemetery Database: SOLOVEITCHIK, JOS. RABBI
Biographical Notes: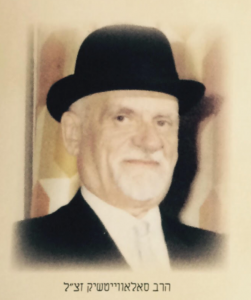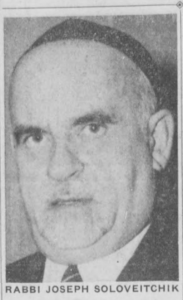 Photo Caption: Rav Yosef Dover Soloveitchik, Credit: Needed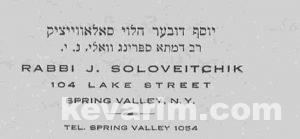 Photo Caption: Letterhead, Credit: MCA
Bio Information:
Rav Soloveitchik, a grandson of the Beis Halevi founded the first Bais Yaakov school in Rockland County.
« Previous: Rabbi Levi Yosef Breuer
Next: Rabbi Chaim Dovid Leibowitz »