Rabbi Yosef Peimer

יוסף ב"ר מאיר
Slutsker Rav of New York City
Date of Death: Thu. November 24, 1938 - Kislev 1 5699
Rosh Codesh
Anyone with biographical information is asked to please send it in.
See CONTACT page for details. Thank you.
Cemetery:
Mount Carmel Cemetery Section 2 & 3 - Glendale (Queens)
Directions to Kever: Mount Carmel Cemetery in Queens maintains computerized records and will provided a detailed location map upon request. Location: Section: 3, Block: A, Large footstone in the Tear Drop Section, near Mendel Beilis.
Name Listed on Cemetery Database: PAEMER, JOSEPH
Biographical Notes: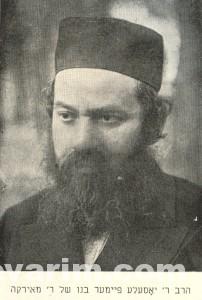 Photo Chaption: Rav Yosef Peimer, Credit:Institute For Judaic Culture and History


Photo Caption: Rav Yossel of Slutzk d. 1864, Credit: Institute For Judaic Culture and History
Bio Information: 
Rav Peimer was the recording secretary for the Degel Harabonim.
« Previous: Rebbe Yaakov Yitzchok Twersky
Next: Rabbi Tzvi Hersh Robinson »