Rabbi Yosef Zelig Zeligs

יוסף זעליג ב"ר מנחם
Rav, Beth Medrash HaGadol of Cincinnati
Date of Death: Mon. August 9, 1920 - Av 25 5680

Anyone with biographical information is asked to please send it in.
See CONTACT page for details. Thank you.
Cemetery:
Covedale Cemeteries - Cincinnati
Directions to Kever: Located in the Covedale section of Cincinnati, Golf Manor No. 4 Cemetery is part of the Jewish Cemeteries of Greater Cincinnati Association and is located at 2111 Anderson Ferry Road. Location: Golf Manor # 4 is at the opposite end of the driveway from the entrance where you will find a circle that routes you back out. Section: 4, Lot: 2, Grave Number: 68
Name Listed on Cemetery Database: Rabbi Joseph Zeligs
Biographical Notes: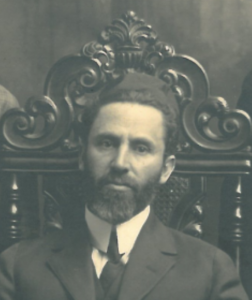 Photo Caption: Rabbi Yosef Zelig Zeligs, Credit: Joe Zeligs
Note: The original family name was Shostokovsky.
« Previous: Rabbi Shalom Asher Yeshaya Rubin
Next: Rabbi Shmuel Aba Magid »