Rebbe Eliezer Lipa Weisblum

אליעזר ליפא ב"ר ישראל חיים
Brooklyn Lizensker Rebbe
Date of Death: Mon. August 11, 1958 - Av 25 5718

Anyone with biographical information is asked to please send it in.
See CONTACT page for details. Thank you.
Cemetery:
Mount Carmel Cemetery Section 2 & 3 - Glendale (Queens)
Directions to Kever: Mount Carmel Cemetery Section 2 & 3 in Glendale, Queens maintains computerized records and will provided a detailed location map upon request. Location: Section: 2, Block: 1, Map: 7, Society: 1ST SOKOLOWER LEZAYNSKER, first row, along the road
Name Listed on Cemetery Database: WEISBLUM, LIPA
Biographical Notes: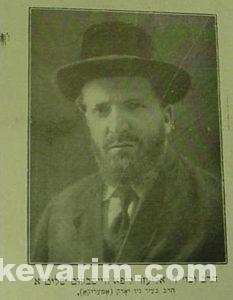 Photo Caption: Lizensker Rebbe, Credit: Moreshes Chachmei America's Archives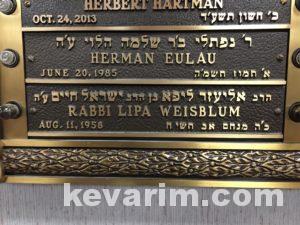 Photo Caption: A memorial plaque for the Rebbe at the Young Israel of Queens Valley in Kew Gardens Hills, NY.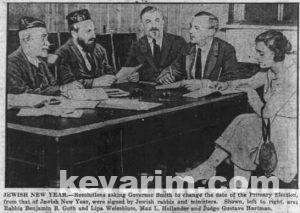 Source: Daily News, August 1920
« Previous: Rabbi Moshe Zevulun Margolies
Next: Rabbi Moshe Weinberger »