Rebbe Moshe Wildenberg

משה ב"ר יעקב יצחק
Plotzker Rebbe
Date of Death: Mon. February 7, 1972 - Shevat 23 5722

Anyone with biographical information is asked to please send it in.
See CONTACT page for details. Thank you.
Cemetery:
Wellwood Cemetery - West Babylon (Farmingdale)
Directions to Kever: Wellwood Cemetery in Long Island maintains computerized records and will provide a detailed location map upon request. Location: Section: 2, Block: 18, Row: 11, Grave: 6L, Society: SARATOGA HEBREW CENTER, the wife is in a different section.
Name Listed on Cemetery Database: MOSES WILDENBERG
Biographical Notes: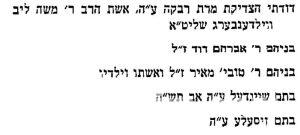 Photo Caption: Names of his first wife and children HY"D, Credit: Marie Benett & MCA
Bio Information:
The Plotzker Rebbe and Rav Menachem  Ziemba HY"D were brother-in-laws.
« Previous: Rabbi Shmuel Krauss
Next: Rabbi Nachman Selig Newman »