Rebbe Yosef Leifer

יוסף ב"ר ישכר בער
Pittsburger Rebbe
Date of Death: Mon. March 7, 1966 - Adar 15 5726
Shushan Purim
Anyone with biographical information is asked to please send it in.
See CONTACT page for details. Thank you.
Cemetery:
Har HaMenuchos - Jerusalem
Directions to Kever: Har HaMenuchos Cemetery - Jerusalem, Israel. Location: In the vicinity of Chelkas HaRabonim
Biographical Notes: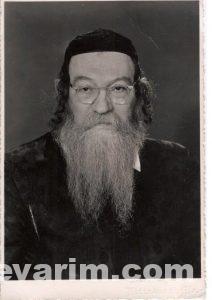 Rebbe Yosef Leifer, Pittsburger Rebbe, Credit: Assigned to IFJCAH

Bio Information: 
The Pittsburger Admorim, a scion of the Nadvorna line of Chassidic dynasties trace their lineage to Rebbe Meir'l of Premishlan (d. 1773), a student of the Baal Shem Tov.
« Previous: Rebbe Avroham Abba Leifer
Next: Horowitz Brothers and Margareten Company »