Rev Shmuel Meir Isaacs

שמואל מאיר ב"ר
Spiritual Leader, Congregations Bnai Jeshurun and Shaaray Tefila , New York City
Date of Death: Sun. May 19, 1878 - Iyar 16 5638

Anyone with biographical information is asked to please send it in.
See CONTACT page for details. Thank you.
Cemetery:
Beth Olam Cemetery Shaaray Tefila Section - Queens
Directions to Kever: Beth Olam Cemetery in Ridgewood, Queens is kept in pristine condition. Unfortunately their records are in total disarray and paths are not well marked. Location: Second cemetery  entrance (from Jackie Robinson direction). Follow the road all the way up the hill until the last section before cul-de-sac, on the left side, family plot (See map below). Section: Shaaray Tefila
Name Listed on Cemetery Database: Samuel Myer Isaacs
Biographical Notes: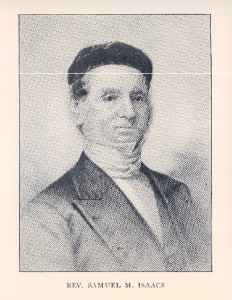 Credit: B'nai Jeshurun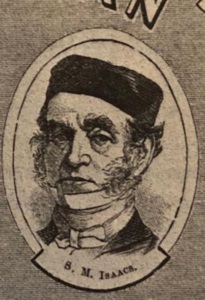 Photo Caption: Rev Shmuel Meir Isaacs, Credit: Rabbi Mordechai Hecht, Anshe Sholom Chabad JCC

Bio Information:
Rabbi Isaac's primary teacher was Rav Solomon Hirschell (d. 1842), Chief Rabbi of the British Empire. In 1839, with the encouragement of his Rebbe he accepted a position in New York as the spiritual leader (Moreh Dasrah, Chazan, preacher, est.) of Congregation Bnai Jeshurun. He later moved to Congregation Shaaray Tefila.  In 1859 the he tried organizing the first American national kehillah.
« Previous: Rebbe Levy Yitzchok Landman
Next: Rabbi Moshe Sterman »