A. Streit's Matzos

Lower East Side, New York City
Date of Death: Sat. January 1, 1916 -

Anyone with biographical information is asked to please send it in.
See CONTACT page for details. Thank you.
Cemetery:
Pesach - Passover (Matzah Bakeries)
Directions to Kever:
Biographical Notes: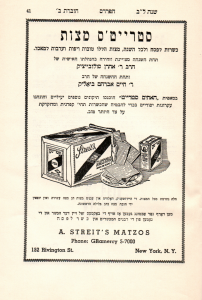 Photo Caption: Long-standing advertisement in the HaPardes magazine, Credit: IFJCAH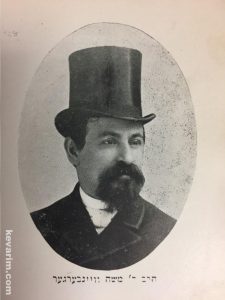 Photo Caption: Rav Moshe Weinberger was among the first Hungarian Rabbanim to arrive in the United States. After several troubled attempts in the rabbinate, he founded the Pitt Street Matzah Bakery. The Pitt Street Matzah Bakery was the forerunner of the now famous Streit's Matzah Bakery. Credit: IFJCAH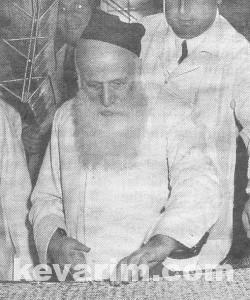 Photo caption: Rabbi Asher Nissan Levitan, overseeing production at the Streit's, c. 1960 Credit: Aron Streit, Inc.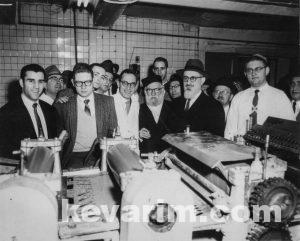 Photo Caption:  Rav Chaim Ben Tzion Notelevitz, Brooklyn and Rav Yosef Dov Ber Soloveitchik, Boston (Yeshiva University) at the Streit Matzo Bakery, Credit: Aron Streit, Inc.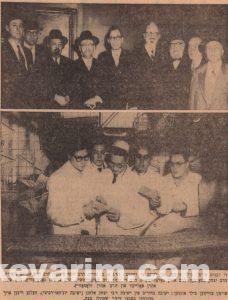 Photo Caption: The RIETS Chabura at Streit Matzo Bakery, Source: Jewish Daily
Bio Information:
In the 1890's, Aron Streit and his wife, Nettie, left Europe and came to America. In 1916, Aron opened his first matzo factory. There, on Pitt Street on the Lower East Side of Manhattan, Aron and his first partner Rabbi Moshe Weinberger made all their matzo by hand. In 1925, Aron and one of his sons opened up a modern bakery on Rivington Street. A few years later, Aron's other son joined the business. With the family working together, the Streit matzo bakery prospered and Aron bought three adjoining buildings to handle the growing business. In 2015, after nearly 100 years making matzo on Manhattan's Lower East Side, Streit's moved to a new and modern bakery in Orangeburg, New York.
Source: Streit  Website
« Previous: Agudas Harabonim Building Dedication
Next: Rabbi Meir Sharf »