Entries Tagged as 'Ropshitz'
Puhietze Rebbe d. 11 Nissan, 1966 Anyone with information is asked to please send it in. See CONTACT page for details. Directions to kever: Wellwood Cemetery Wellwood Avenue Farmingdale, NY 11735 (Agudath HaAdmorim Section on South Avenue, towards the back)
Tags: Admorim · New York · Queens / L.I., NY · Ropshitz · Unknown · Wellwood Cemetery - Long Island
Schendisheve Rebbe of Williamsburg d. 14 Adar 1955 Anyone with information is asked to please send it in. See CONTACT page for details. Directions to kever: Wellwood Cemetery Wellwood Avenue Farmingdale, NY 11735
Tags: Admorim · New York · Queens / L.I., NY · Ropshitz · Wellwood Cemetery - Long Island
Melitz Lizensk Rebbe d. 24 Kislev, 1955 (5716) Anyone with information is asked to please send it in. See CONTACT page for details. Directions to kever: Wellwood Cemetery Wellwood Avenue Farmingdale, NY 11735 (Agudath HaAdmorim Section on South Avenue) Photo Credit: JM
Tags: Admorim · New York · Queens / L.I., NY · Ropshitz · Wellwood Cemetery - Long Island
בן ציון ב"ר יוסף חיים
Vielopoler Rebbe
Date of Death: Fri. June 13, 1975 - Tammuz 4 5735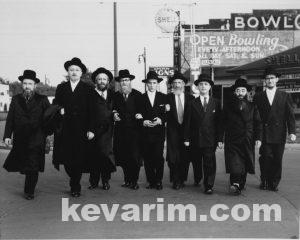 Photo Caption: The Vielopoler Rebbe (first person on the left) walking along a wedding procession in Detroit, Credit: MCA
Tags: Admorim · New York · Queens / L.I., NY · Ropshitz · Wellwood Cemetery - Long Island
מנחם מענדיל ב"ר צבי יוסף
Yaslover Rebbe
Date of Death: Thu. January 19, 1928 - Teves 22 5688

The Rebbe's grandfather Rebbe Avroham Yehoshua Hershel of Yaslov was the great grandson of both Rebbe Elimelech of Lizensk and Rebbe Naftali Tzvi of Ropshitz.
Tags: Admorim · Mt. Hebron (Main Street) Cemetery · New York · Queens / L.I., NY · Ropshitz · Unknown
נפתלי צבי ב"ר ישראל
Krakover Rebbe of Toronto
Date of Death: Fri. June 15, 1928 - Sivan 27 5688

.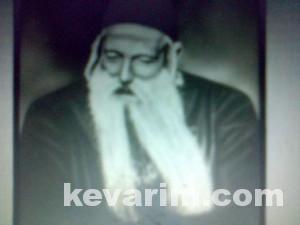 The Rebbe, the first Admor to settle in Toronto, was a great grandson of Rebbe Naftali of Ropshitz (d.1827).
Tags: Admorim · Canada · Ropshitz · Toronto, ON
שמואל צבי ב"ר אברהם אביש
Spinka Rebbe
Date of Death: Sat. August 30, 1997 - Av 27 5757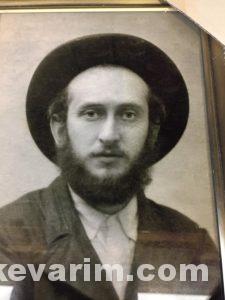 Photo Caption: The Rebbe, who was more commonly known as Rebbe Herschele of Spink about a year after his liberation. Credit: Horowitz family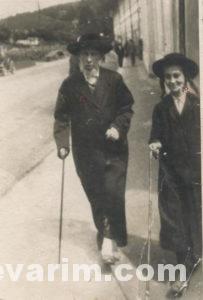 Photo Caption: Rebbe Herschele as a young child, walking with his grandfather, Chakal Yitzchak, HY"D, Credit: Needed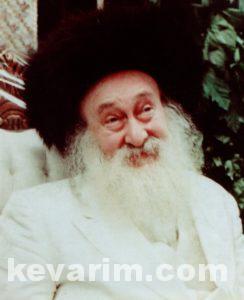 Photo Credit: Boro Park Studio
Tags: Admorim · Floral Park - Washington Cemetery (N.J.) · New Jersey · Ropshitz
צבי הירש ב"ר טוביה יחיאל מיכל
Sassover Rebbe
Date of Death: Sun. April 19, 1970 - Nissan 24 5731

Tags: Admorim · Beth David Cemetery - Long Island · New York · Queens / L.I., NY · Ropshitz
Shendishov Shotzer Rebbe d. 17 Teves, 1967 (5727) The Rebbe was the son-in-law and successor of Rebbe Meir Moskowitz (d.1921) settled in the United States in 1928. Anyone with information is asked to please send it in. See CONTACT page for details. Directions to kever: Wellwood Cemetery Wellwood Avenue Farmingdale, NY 11735 (Agudath HaAdmorim Section […]
Tags: Admorim · New York · Queens / L.I., NY · Ropshitz · Wellwood Cemetery - Long Island · Zlotchov
ישכר דוב בעריש ב"ר שמואל צבי
Spinka Rebbe Bais Yitzchok, Williamsburg, Brooklyn
Date of Death: Mon. October 1, 2007 - Tishrei 19 5768
Chol Hamoed Succos

Photo Caption: Spinka Rebbe leading a tish, Credit: Moreshes Chachmei America's Archives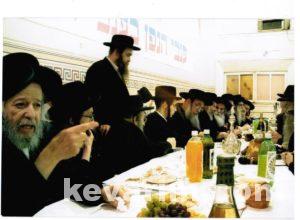 Photo Caption: Spinka Rebbe attending a simcha, Credit: Moreshes Chachmei America's Archives

Tags: Admorim · Floral Park - Washington Cemetery (N.J.) · New Jersey · Ropshitz
Melitzer Rebbe of the Lower East Side d. 22 Tamuz, 1975 The Rebbe recited the Kel Maleh Rachamim on the steps of the Capitol on Erev Yom Kippur, 1943 when over 400 Rabbanim and Admorim marched on Washington demanding that the Roosevelt administration help save the Jews of Europe . Anyone with information is asked […]
Tags: Admorim · New York · Queens / L.I., NY · Ropshitz · Wellwood Cemetery - Long Island