Holocaust - Shoah Kedoshim, Chelmno Extermination Camp - Chełmno nad Nerem, Poland

קבר הקדושים ממחנת ההשמדה חלמנה-במאנסי
Date of Death: Wed. January 17, 1945 - Nissan 3 5705

Anyone with biographical information is asked to please send it in.
See CONTACT page for details. Thank you.
Cemetery:
Holocaust - Shoah - Kedoshim
,
Monsey and Spring Valley Cemetery - Monsey
Directions to Kever:
Biographical Notes:
At the very minimum, 152,000 people were murdered at Chelmno, HY"D, which would make it the fifth most deadly extermination camp, after Sobibor, Belzec, Treblinka, and Auschwitz. The Red Army captured the town of Chełmno on January 17, 1945. By then, the Germans Y"S had already destroyed evidence of the camp's existence, leaving no prisoners behind. One of the camp survivors, who was fifteen years old at the time, testified that only three Jewish males had escaped successfully.
How the remains arrived in Monsey, New York is unclear. Recently a new marker was erected in honor of those buried there.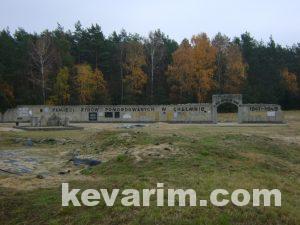 Photo Caption: What remained of the Chelmno Extermination Camp, Credit: N/N
« Previous: Rabbi Avroham Yitzchok Geiger
Next: Rabbi Yitzchok Hutner »