Rabbi Avroham Yosef Ash

אברהם יוסף ב"ר מאיר
Founding Rabbi, Bais Hamedrash HaGadol of Norfolk Street
Date of Death: Thu. May 19, 1887 - Iyar 25 5647

Anyone with biographical information is asked to please send it in.
See CONTACT page for details. Thank you.
Cemetery:
Machpelah Cemetery - Queens
,
Union Field Cemetery - Queens
Directions to Kever: The actual kever sits on the grounds of the Machpelah Cemetery located in Ridgewood, Queens, however, access from Union Field Cemetery is recommended. Location: (From Union Field), Main Road, right on Path J past the trees into Machpelah Cemetery about fifteen feet to the right, look for candle box), See Map below.
Biographical Notes: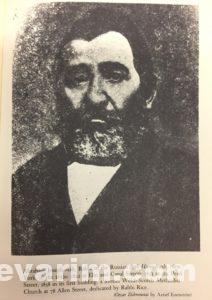 Photo Caption: Rav Avroham Yosef Ash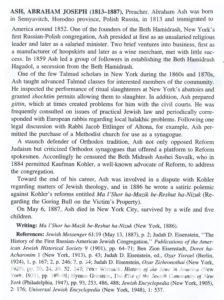 Photo Credit: Orthodox Judaism in America, Sherman


Photo Credit: New York Times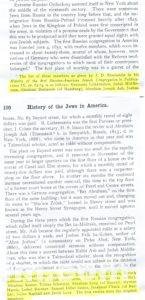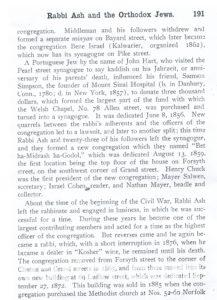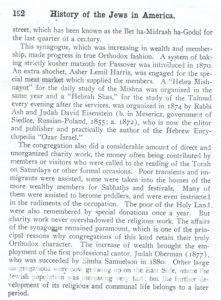 Photo Source: History of the Jews in America, Peter Wiernik, Credit: IFJCAH
Note: In the highlighted section is the name of the 12 original members of the Bais Medrash HaGadol.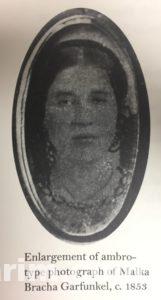 Photo Caption: Malka Bracha Garfunkel, Credit: Hoopskirts and Huppas, Milton M. Gottesman
Malka Bracha's son Baruch Mordechai (better know as BM or Benjamin Marcus) married Rav Ash's daughter Miriam. He later went into the hoopskirt business with his father-in-law.  Sadly, Miriam passed away soon after the marriage leaving behind a daughter.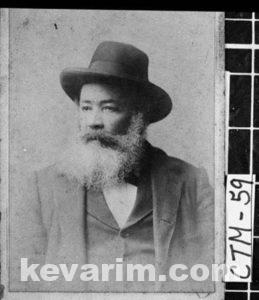 Photo Caption: Baruch Mordechai Garfunkel, d. 1911, Credit: Jacob Lehrfeld
Bio Information:
Rav Ash was from the first Eastern European style Rabbanim to organize and lead a congregation in New York City. Eventually, his fame and authority spread across the country. No Orthodox congregation in the United States would accept a shoichet (ritual slaughterer) without his certification.
Map To The Kever Of Rav Ash From Union Field Cemetery: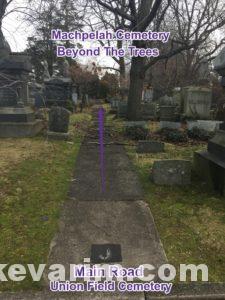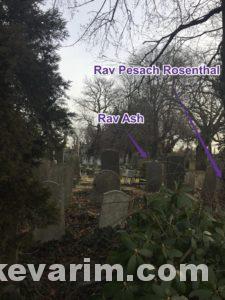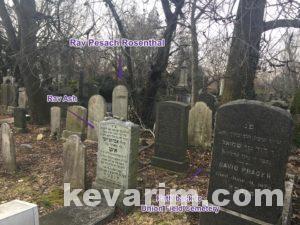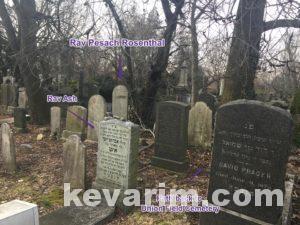 Rebbetzin Ash is buried further down the hill near the main road of the Machpelah Cemetery.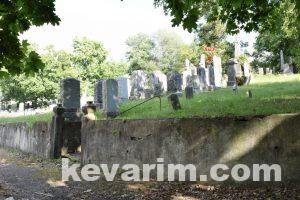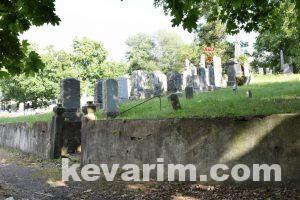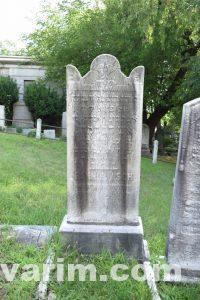 Photo Credit: Asher Lowy, Lakewood, NJ