Rabbi Dr. Chaim Henry Pereira Mendez

חיים ב"ר אברהם
President and Co-founder, Orthodox Union (OU)
Date of Death: Wed. October 20, 1937 - Cheshvan 15 5698

Anyone with biographical information is asked to please send it in.
See CONTACT page for details. Thank you.
Cemetery:
Beth Olam Cemetery Shearith Israel Section - Queens
Directions to Kever: The Beth Olam Cemetery in Cypress Hills is bisected by the border between Brooklyn and Queens. The paths are not well marked and finding the individual monuments can be difficult. Location: Shearith Israel section, to the right of the Chapel Building, at the bottom of the hill along the main path on the left.
Biographical Notes:
Rav Mendes an early pioneer, upholding true Torah values in the United States was the Moreh Dasrah of Congregation Shearith Israel (The Spanish & Portuguese Synagogue). The Rav, also served as the president of the Union of Orthodox Jewish Congregations of America (UOJCA). The UOJCA now goes by the name Orthodox Union or OU for short. The goal of the UOJCA was to establish a united voice for America Orthodoxy.
In Memorial 
Dr. Abraham Goldstein
Co-founder, Orthodox Union (OU)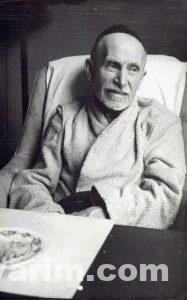 Photo Caption: Dr. Abraham Goldstein, Credit: Courtesy Goldstein Family Collection