Rabbi Chaim Levine

חיים ב"ר יהודה ליב
Rav, Talmud Torah Etz Chayim v'Chevre Ein Jacob 
Date of Death: Mon. March 27, 1961 - Nissan 6 5721

Anyone with biographical information is asked to please send it in.
See CONTACT page for details. Thank you.
Cemetery:
Mount Judah Cemetery - Ridgewood (Queens)
Directions to Kever: Mount Judah Cemetery - Queens maintains computerized records and will provide a detailed location map upon request. Location: Society: TAL TOR TIPH JER, Section: 1, Block: V, Gate: 1, corner of Lebanon Road and Sinai Avenue, in the back near the Union Field Cemetery fence. See map below.
Name Listed on Cemetery Database: LEVINE, CHAIM
Biographical Notes: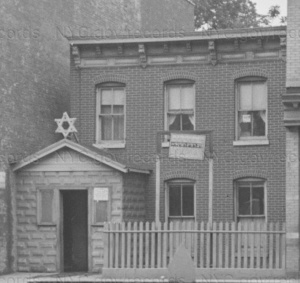 Photo Caption: Talmud Torah Etz Chayim v'Chevre Ein Jacob at 600 Stone Avenue in Brooklyn c. 1939, Credit: NYC
Bio Information:
Rabbi Levin also served as the founding president of Mesivta Tifereth Jerusalem (MTJ)