Rabbi Chaim Sakolski

חיים ב"ר שבתי
Rav (Reader), Allen Street Bais Hamedrash
Date of Death: Sat. October 27, 1883 - Tishrei 26 5644

Anyone with biographical information is asked to please send it in.
See CONTACT page for details. Thank you.
Cemetery:
Machpelah Cemetery - Queens
Directions to Kever: Although buried in the Machpelah Cemetery, access is easier from Union Field Cemetery. Location: (direction are from Union Field) Main Road, right on Path: J past the trees into Machpelah Cemetery. About fifteen feet to the right is the Bais Hamedrash HaGadol section. There is a candle box at the kever of Rabbi Avroham Yosef Ash.
Name Listed on Cemetery Database: Name listed on marker: H Sakolski
Biographical Notes: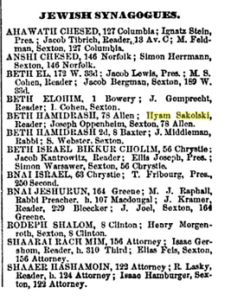 Photo Credit: Moreshes Chachmei America Archives
Bio Information:
Rav Sakolski served as rabbi, reader, and president of the Allen Street Bais Hamedrash. After his passing there was a disputed between two of the leading rabbonim on the Lower East Side, Rav Yosef Moshe Aaronsohn and  Rav Avroham Yosef Ash over congregational and  kashrus (kosher certification) related issues. Rav Ash eventually split from the Allen Street Bais Hamedrash and founded the Bais Hamedrash HaGadol of Norfolk Street.