Reverend Ignatz Jacob Kunreuther

אשר ב"ר נפתלי הלוי
Rav, Kehilath Anshe Maarav (KAM), Chicago, Illinois
Date of Death: Fri. June 27, 1884 - Tammuz 4 5644

Anyone with biographical information is asked to please send it in.
See CONTACT page for details. Thank you.
Cemetery:
Zion Gardens Cemetery - Chicago
Directions to Kever: Zion Gardens Cemetery located in Chicago maintains computerized records and will provide a detailed location map upon request. The Cemetery which was previously known as Rosemont Park, is a 50-acre property which includes Mt. Mayriv and Isaiah Israel, B'nai Jehoshua Beth Elohim and B'nai Brith. Location: Needed
Biographical Notes: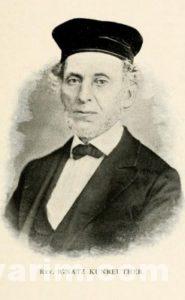 Photo Caption: Rev Ignatz Jacob Kunreuther, Credit: Moreshes Chachmei America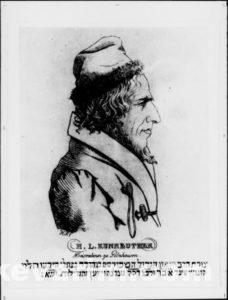 Photo Caption: Rav Naftali Halavi Kunreuthrt, Cheif Rabbi, Glenhausen, Germany (Glenhausen is a suburb of Frankfurt am Main), Credit: Moreshes Chachmei America.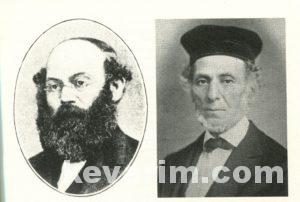 Photo Caption: Abraham Kohn (see bio below) and Rev Ignatz Jacob Kunreuther, Credit: The Jews of Chicago, Cutler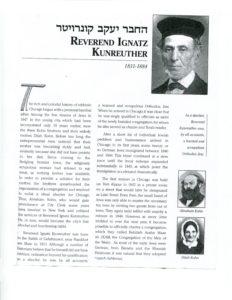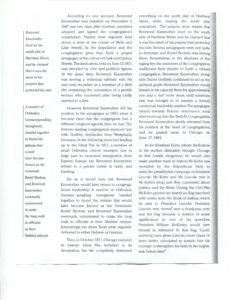 Credit: Chicago Rabbis: Visionaries, and Leaders 
« Previous: Rabbi Yehuda Dovid Bernstein
Next: Rabbi Meir Freeman »