Rabbi Shmuel Tzvi Wein

שמואל צבי ב"ר משה ארי' הלוי
Rosh Yeshiva, Rabbeinu Yitzchok Elchonon (RIETS)
Date of Death: Tue. November 12, 1918 - Kislev 8 5679

Anyone with biographical information is asked to please send it in.
See CONTACT page for details. Thank you.
Cemetery:
Old Montefiore Cemetery - Queens
Directions to Kever: Old Montefiore Cemetery in Queens maintains computerized records and will provide a detailed location map upon request. Gate: 158/S, Block: 90, Row: 011R, Grave: 6, Society Name: CHEVRA SHOMREI HADAS OF BOROUGH PARK (along Benjamin Road)
Name Listed on Cemetery Database: WILIN, SAMUEL
Biographical Notes: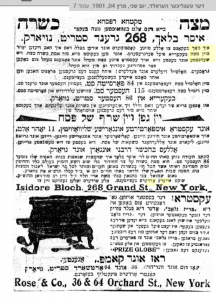 Photo Caption: Advertisement for Isidore Bloch's Matzo Bakery bearing Rabbi Wein's certification. Credit: MCA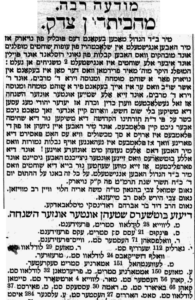 Photo Caption: Beth Din Kosher Certification signed by Rabbi Wein, Rabbi Tzvi Hirsh Lass, and Rabbi Dovid Rodinsky, Credit: Moreshes Chachmei America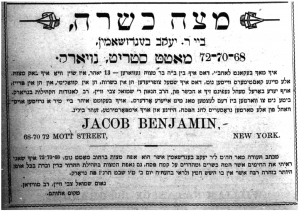 Credit: MCA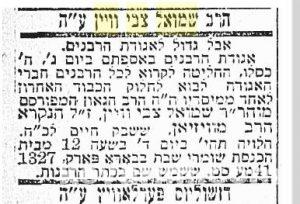 Credit: MCA
Bio Information:
Rav Wein was a founding member of the Rabbi Isaac Elchonon Theological Seminary (RIETS) Smicha Board established in 1906. The other members were Rav Hillel Klein and Rav Moshe Zevulin Margolies. Rav Bernard Levinthal of Philadelphia represented the Agudath Arabonim.
« Previous: Rabbi Aryeh Leib Goldsmith
Next: Rabbi Mordecai Zevin »