Rabbi Yeshaya Levy

ישעי ב"ר מיכאל הלוי
Rav, Congregation Ohhab Zedek (OZ), New York City
Date of Death: Tue. October 28, 1930 - Cheshvan 6 5691

Anyone with biographical information is asked to please send it in.
See CONTACT page for details. Thank you.
Cemetery:
Washington Cemetery - Brooklyn
Directions to Kever: The Washington Cemetery in Brooklyn, New York maintains detailed burial records and will provide assistance upon request. Location: Enter from Ocean Parkway service road between Avenue J and K, left on Hyacinth Avenue, right on Lotus Avenue to marker 96, around 300 feet.
Biographical Notes: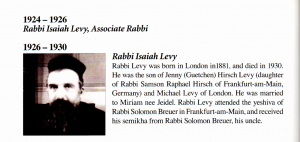 Source: First Hungarian Congregation Ohab Zedek, Chaim Steinberger