Rabbi Dr. Hillel HaKohen Klein

הלל ב"ר זאב צבי הכהן
Rav, Congregation Ohab Zedek (OZ), Upper West Side
Date of Death: Sun. March 21, 1926 - Nissan 6 5686

Anyone with biographical information is asked to please send it in.
See CONTACT page for details. Thank you.
Cemetery:
Washington Cemetery - Brooklyn
Directions to Kever: The Washington Cemetery in Brooklyn, New York maintains detailed burial records and will provide assistance upon request. Location: Enter from Ocean Parkway service road between Avenue J and K, left on Hyacinth Avenue, right on Lotus Avenue to marker 96, around 300 feet.
Name Listed on Cemetery Database: Philip Klein
Biographical Notes: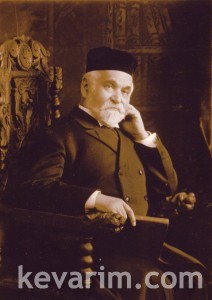 Photo Caption: Rabbi Dr. Hillel Klein, Credit:  Nancy Klein, Yonkers, NY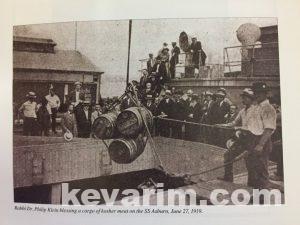 Credit: Chaim Steinberger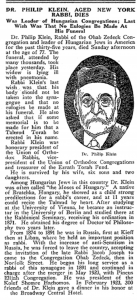 Source: New York Times

Bio Information:
Rav Klein was one of the most influential Rabbanim in prewar America. In addition, he was a member of Chief Rabbi Yaakov Yosef Joseph's Bias Din(Rabbinical Court).
At the time of his death, Rav Klein was the honorary president of the Agudas Ha-Rabbonim, president of the newly formed Agudath Israel of America, treasurer of the Ezras Torah fund, and Nasi of Kolel Shomrei Hachomos in Jerusalem.
Although a member of all these organizations Rav Klein once remarked: "there is but one title that I bear with a conscious pride, and that is Hillel HaKohen".
« Previous: Rabbi Yeshaya Levy
Next: Rabbi Yehuda Leib Forer »