Rev Yisroel (Israel Ber) Dov Kursheedt

ישראל דוב ב״ר אשר
Talmid of Rav Nosson Adler of Frankfurt am Mein
Date of Death: Fri. April 30, 1852 - Iyar 11 5612

Anyone with biographical information is asked to please send it in.
See CONTACT page for details. Thank you.
Cemetery:
Beth Olam Cemetery Shearith Israel Section - Queens
Directions to Kever: The Beth Olam Cemetery in Cypress Hills is bisected by the border between Brooklyn and Queens. The paths are not well marked and finding the individual monuments can be difficult. Location: To the left of the Chapel Building, up the hill, overlooking the Atlantic Ocean on the horizon.
Biographical Notes: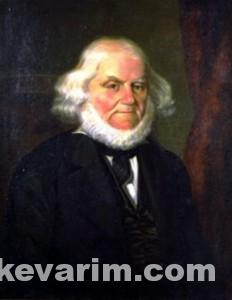 Photo Caption: Portrait of Rev Israel Ber Kursheedt, Photo origination: onthemainline
Bio Notes:
Rev Yisroel Ber Kursheedt is the only known talmid (student) of Rav Nosson Adler the Rebbe of the Chasam Sofer to be buried in the United States. Rev Kursheedt was a contemporary of Rav Avroham Bing and Rav Wolf Heidenheim. It is reported that Rav Adler held these three students in equal esteem and was quoted to have said Avroham is a charif, Wolf is a medackdek, and Yisroel is a chochem.