Rebbe Yehoshua Hershel Rabinowitz

יהושע העשיל ב"ר יצחק יואל
Manestricher Rebbe
Date of Death: Wed. April 27, 1938 - Nissan 23 5698

Anyone with biographical information is asked to please send it in.
See CONTACT page for details. Thank you.
Cemetery:
Old Montefiore Cemetery - Queens
Directions to Kever: Old Montefiore Cemetery in Queens maintains computerized records and will provide a detailed location map upon request. Location: Section: CHEVRA NOCHLIS JOUSHIA, Block: 9, Montefiore Avenue, right on Lane O, first ohel
Name Listed on Cemetery Database: ONSHEY (RABBI) RABINOWITZ
Biographical Notes: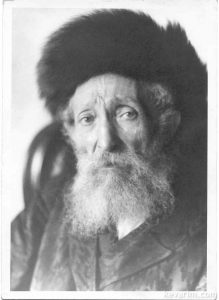 Photo Caption: Manestricher Rebbe, Credit: From the library of Rebbe Nachum Rabinowitz, Monastricher Rebbe of Brooklyn.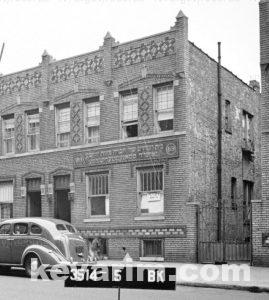 Photo Caption:  Chevrah Nachlas Yehushua,  89 Legion Street, Brooklyn c. 1940, Credit: NYC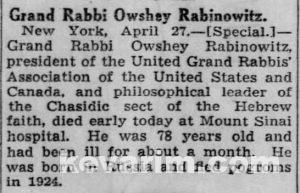 Source: Chicago Tribune, Chicago, Illinois, 28 Apr 1938, Thu • Page 14

Bio Information: 
Soon after his arrival in the United States the Rebbe was appointed nassi (president) of the Agudath HaAdmorim.
« Previous: Rabbi Eliezer Silver
Next: Rebbe Aryeh Leib Schochet »