Warsaw Ghetto Matzah Bakery

פארקויף פון כשרה מצות
Warsaw, Poland
Date of Death: Fri. November 15, 1940 -

Anyone with biographical information is asked to please send it in.
See CONTACT page for details. Thank you.
Cemetery:
Pesach - Passover (Matzah Bakeries)
Directions to Kever:
Biographical Notes: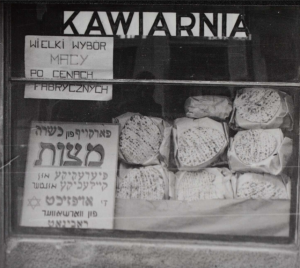 Photo Caption: Kosher Warsaw Café, selling Matzah with the certification of the Warsaw Rabbinate, Credit: MCA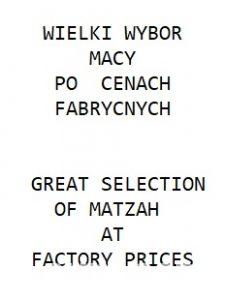 Photo Caption: Translation of the Polish sign in the window, Credit: IFJCAH
Note: Please help us identify the location and setting of this picture. In addition, regarding the identification of the shop's proprietor. 
« Previous: Rabbi Zev Dov Wittenstein
Next: The Wittenberg Matzoh Co »