Kevarim of Tzadikim in North America
— Over 1828 Kevarim Online!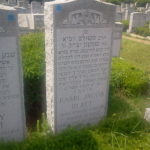 Blat Zosha Zusa Zushya Meshulam Zusia To Alan Feurman: I knew your grandfather - Rabbi Blatt of the Sanhedrin Jewish Center, that was on 131 St, between Liberty and 103 Ave, when I attended "Hebrew School" and had a "Bar-Mitzvah" in 1970 when I was 13. I believe his...
read more