Kevarim of Tzadikim in North America
— Over 2113 Kevarim Online!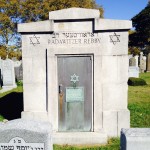 Radawitzer Rebbe of New York City d. 3 Cheshvan, 1942 (5703) The Rebbe came to the United States in 1912. Anyone with information is asked to please send it in. See CONTACT page for details. Directions to tombstone: Beth David Cemetery 300 Elmont Road Elmont, NY 11003...
read more